We just reached over 300+ attendees for the PDC next month 🎊🎊🎊🎊🎊
We are crushing attendance registration from last year already and we have a whole month to go!
You are not going to want to miss this year. You still have time to register! Hotels are filling up fast so get registered while you can: https://lnkd.in/gRsemC4g
Need some help convincing the boss? Here's a resource that may help you: https://lnkd.in/ehvYHAe5
Please join us in welcoming our new Region VI ASSP Northern Area Director: Elizabeth Barnette, CSP, ASP, SMS 🎉🎉
Congratulations to you and thank you to Elizabeth for your continued leadership with American Society of Safety Professionals (ASSP) and Region VI – American Society of Safety Professionals
–
Elizabeth has been in the EHS field for over 20 years, and holds a Bachelor's degree in Occupational Safety & Health from Columbia Southern University. She holds the designations of CSP, ASP, and SMS from the Board of Certified Safety Professionals. An active member of ASSP, Elizabeth and has served in numerous positions in Leadership, including Chapter President, Region VI PDC Planning Committee, and is currently the Advisory Group representative for her Chapter.
Elizabeth has received numerous awards including the 2012-2013 and 2019 Greater Tidewater Chapter Safety Professional of the Year, the 2013 Significant Contributor Award for the Health and Wellness Branch and was the 2013-14 Region VI Safety Professional of the Year. She is also an active representative of the Associated Builders and Contractors – Hampton Roads chapter as a member and Chair of the Safety Committee as well as a member of the Virginia BUILT council.
On the importance of her new role with ASSP, Elizabeth stated,
"[The safety] profession continues to evolve in a rapidly changing world. As it does, we must remain vigilant in the pursuit of continuing education. ASSP has been a constant contributor to the success of safety professionals all over the world as we work to protect the people that we serve…Many in our field are nearing retirement age, and it is critical to the future that we attract, educate, and mentor new safety professionals to continue the good work that has been done and face the challenges that lie ahead."
Elizabeth replaces Daniel Ashworth from his latest term with the Region and we want to thank Daniel for his time, leadership, commitment and all he did to help advance the Northern Area Region!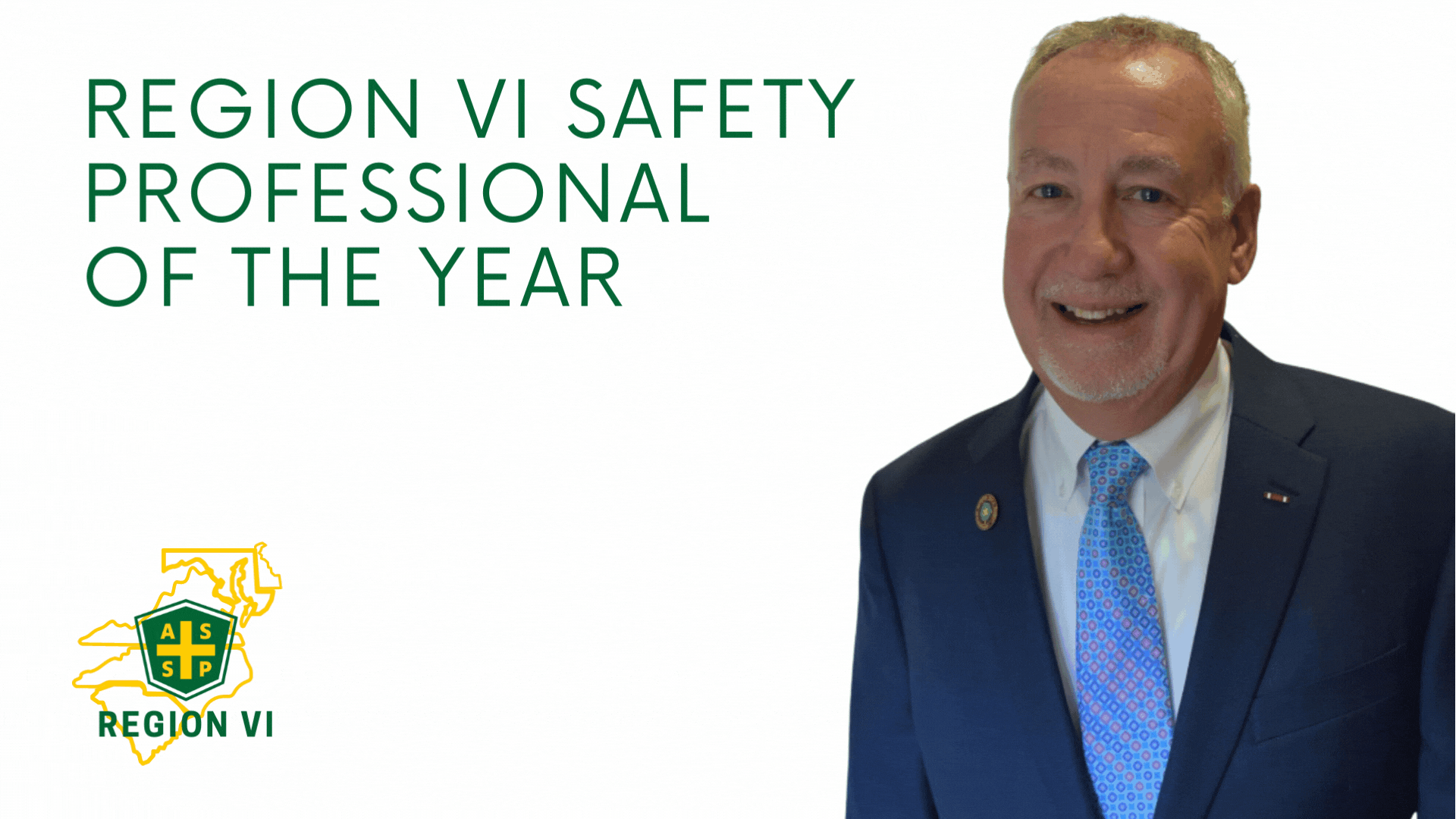 Please join us in congratulating Frank Cruice, who has been named as the 2023 Region VI Safety Professional of the Year by the American Society of Safety Professionals (ASSP).
Over his 40+ years in the profession, Frank has served in various leadership roles for the American Society of Safety Professionals (ASSP) & other safety organizations. Frank is currently a member of the ASSP Honors & Awards Committee as well as serving as the Delmarva Chapter's representative to ASSP's Advisory Group and its Webmaster.
In his 22 years of service with Perdue Farms Frank served as the Senior Director of Safety and Security. He led the efforts in improving the safety culture that resulted in a 91% reduction in OSHA recordable cases, a 67% reduction in Lost Workday cases and a 93% reduction in Days Away, Restricted and Transfer cases. Frank has led numerous process improvement implementations over the years in both Behavioral Based Safety and new software platforms that have strengthened and streamlined the safety programs. Frank's efforts in championing the Safety Processes and Culture have led to Perdue Farms becoming a leader in the Poultry Industry in safety excellence.
ASSP recognizes one outstanding safety professional from each of the nine geographical regions annually as a Regional Safety Professional of the Year (SPY). With over 38,000 professional members in 80 countries, only nine men and women are recognized annually for this achievement. The SPY recipients have advanced the American Society of Safety Professionals and the safety profession through their dedication and leadership. Region VI of ASSP comprises 13 chapters of ASSP and covers South Carolina, North Carolina, Virginia, Washington, D.C., Maryland and Delaware.
The ASSP Regional SPY award is an honor acknowledging the dedication and outstanding contributions of a member to a specific Region. The criteria in which a candidate is judged include:
Demonstrated technical expertise in the broad field of safety and a thorough knowledge of the operational aspects of his/her nominee's safety employment.
Demonstrated outstanding contributions to the Society, Council, Region, or Membership Community activities, including committee or task force chair, officer, services to members, lecturer at seminars, etc.
Professional contributions to advance the Safety Profession, such as fostering professional development, public/community services, instructor at educational institutions, involvement in codes and legislation, articles written, work with allied groups, etc.
Awards and innovations, including citations, honors, plaques; or new procedures or systems developed.
Leadership in establishment, maintenance, and improvement of technical or Society programs in the organization nominee serves or elsewhere.
Other personal achievements related to safety and health.
Endorsements by superiors and verification by associates, in the form of letters on appropriate stationery of the employer, Membership Community, or Council.